About the Foundation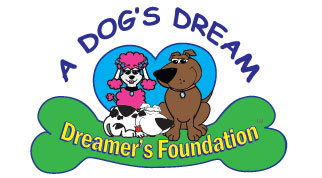 A Dog's Dream LLC has been committed to giving back to the local animal community from the beginning. Through the creation of our Dreamer's Foundation, we can ensure that as many animal as possible receive the proper care and treatment they so richly deserve.

The Dreamer's Foundation was created to reach out and help animals in need. Through the help of donations and volunteers, we are able to give back to those in need as well as lend a helping hand to local rescue groups in our area and beyond. Animal rescue volunteers work extremely hard to take care of forgotten and abandoned animals. They often work for free, with little in return. Any group, at any time, can request funds to help ease an unexpected financial burden.

Your support through donations and events will help us give back and support local animal rescue groups. Your donations will also help to provide care for foster animal in our care. Sometimes, even all of our hard work just cannot prevent emergencies from coming up. In a largely transient community, such as ours, animals are often abandoned and left to fend for themselves. As such, they are prone to disease, malnutrition, and serious injury. It is our desire to work tirelessly to help these animals regain their health and find their new forever homes.

You can make a difference.
Donate today to support the animal rescue efforts in Eastern North Carolina.
Outstanding Achievment Award Winner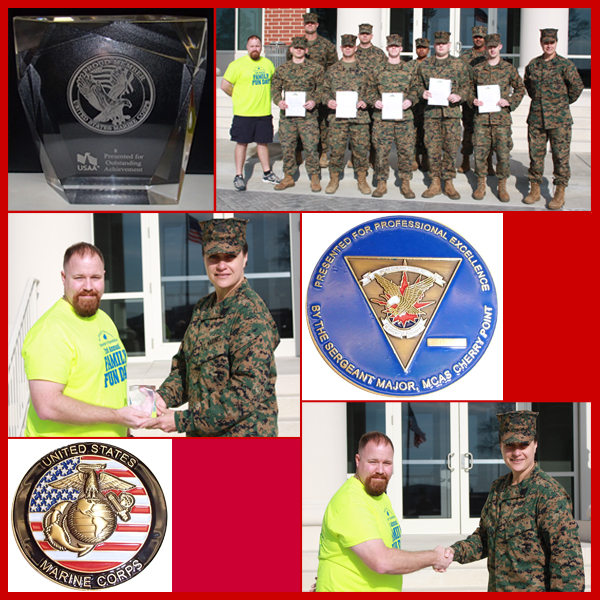 The Dreamer's Foundation received an Outstanding Achievement Award from MCAS Cherry Point Base Sergeant Major, SgtMaj Maness for all the great work that was done for the 2nd annual Family Fun Day!

The Dreamer's Foundation also received a command coin from SgtMaj Maness. If you are not familiar with the history of Marine Corps coins, they are given out by different levels of Marine Corps leadership when they see an extraordinary achievement take place. SgtMaj Maness was extremely happy to see all the great work that the Dreamer's Foundation had done with Family Fun Day and how it impacted the community.

These Marines also were commended for their help with the Family Fun Day. The Dreamer's Foundation received an overwhelming amount of support from MCAS Cherry Point. Over 130 Marines from Cherry Point volunteered their time that day. Out of all of those, the 5 Marines in the picture above went above and beyond their call as a volunteer. In doing so, the Dreamer's Foundation informed SgtMaj Maness of their outstanding work. She was so proud of her Marines that she also gave them a Command Coin from the Base Sergeant Major.

More information about Command Coins can be found HERE. We feel so honored to have received such a prestigious award.

The Dreamer's Foundation would like to thank all the volunteers, businesses, and everyone who came out and made the 2nd Annual Family Fun day such a success!